EXA manages the entire construction process: from feasibility studies, 3D surveying through to build.
We coordinate and supervise all trades, including Client-direct Vendors.
We see ourselves as an orchestra's conductor: all instruments have a role and must be in perfect pitch.
our best practices: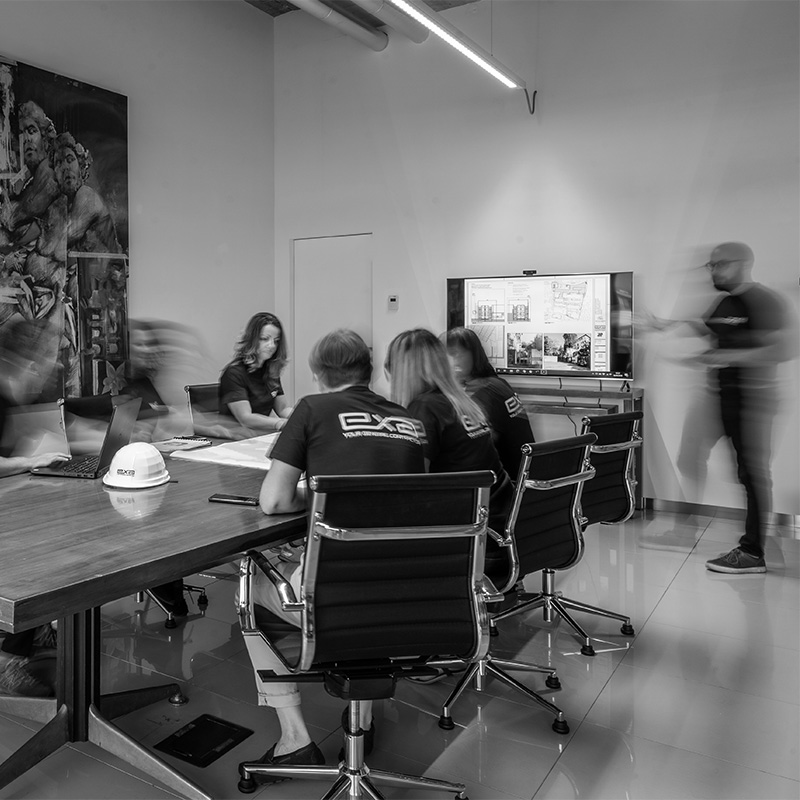 client support
services
360 degree Client-molded service through our versatile organisation. During the design development phase EXA supports consultants on buildability.
We produce executive and shopdrawings, monitor cost and advise on opportunities to value engineer.
Each project is assigned an efficient managing team of experts: estimator, buyer, planner, admin, legal, construction managers who monitor the project 24/7. The Project Manager is our point person dedicated to the Client and their consultants.
problem solving &
value engineering
EXA supports the Client's executive team in detailing the most sophisticated design project, accompanied by its structural and MEP services. We engineer efficient solutions.
EXA explodes the project and value engineers it. This process allows us to find alternative solutions and hidden economies.
expert project
management
Work phases and developed and monitored by our Project Managers. PM's bridge EXA's technical office, Client, and Consultants, with whom they share the responsibility for the build process in terms of programme, cost and quality.
construction
programming
During Sequencing, activities are bound by predecessors, resources and successors, avoiding excessive linking in order not to stiffen the programme.
Limited, precision use of time constraints.
Float Check: critical activities receive careful attention to share and commit to a critical path.
Parallel Activities: high concentration is balanced with careful evaluation of potential overlaps.
48hr work week : 365 day calendar, Monday – Saturday 8 hours per day.
determined method & work phases
pre-construction analysis
mission
targets
work breakdown
resources
---
planning
programme
problem solving
available resource analysis
cost control
---
quality control
scope & design
timing
budget
---
final evaluation
O&M and certifications handover
after sales service
continuous improvement (kaizen)
---